With the health and safety of employees, customers, students, and teachers coming first, facilities should focus on safe and sanitary flooring options.  Everlast Industrial Flooring can support you through these upgrades to make your facility safe and productive with our seamless epoxy flooring options. 
Certain industries such as food and beverage manufacturing, food services, healthcare, and biomedical industries such as cultivation facilities and pharmaceutical plants are required by government regulations to have bacterial and microbial resistant flooring systems.  With the increased attention on sanitation in all facilities, due to the COVID-19 virus, now may be the time to consider seamless, antimicrobial epoxy flooring in your facility. 
What is Anti-microbial flooring and walls?
Anti-microbial floors and walls help block microorganisms, such as the growth of bacteria, fungi, and molds. Seamless, poured-in-place floors are naturally bacteriostatic and fungistatic because there are no seams, welds, or grout lines where bacteria can harbor and potentially grow. The seamless structure also makes the floor easier to clean, which supports anti-microbial efforts. Antimicrobial flooring systems help reduce the chance of disease spreading around the workforce and there will be less concern about the cleanliness of the floor. 
Anti-Microbial additives are also available for even more protection.  These treatments provide the floor with long-term protection against a broad spectrum of bacterial and fungal attack.  These additives are formulated into the flooring systems from the basecoat to the topcoat for more protection.
Forms of Antimicrobial Flooring systems include:
Cementitious Urethane

Epoxy

Polyaspartic

Polyurethane

Urethane
The floor in your facility has the most amount of exposure to contaminants, bacteria and viruses.   An epoxy floors seamless surface already has the capability to defend against bacteria, mold, mildew and other contaminants because there are no grout lines to breed in.  Our seamless epoxy floors have an integral floor to wall cove base and can be coated from the floors to walls to ceilings for the ultimate hygienic surface. 
Epoxy Flooring is best used within the following areas:
Airport Facilities

Animal Care Facilities

Animal Research Facilities

Assisted Living Facilities

Boarding Kennels

Breweries

Cafeterias

Cannabis Cultivation 

Clean Rooms

Clinics

Cold Storage

Commercial Kitchens

Food & Beverage Processing Plants

Fire Rescue and Public Safety

Grocery Stores

Health Clubs

Hospitals

Jails
Kitchens

Laboratories

Laundromats

Locker & Shower Rooms

Manufacturing 

Medical Facilities

Office Spaces

Pharmaceutical Facilities

Research Facilities

Restaurants

Restrooms

Schools

Shelters

Showrooms

Stores

Walk-in Freezers

Wastewater Treatment Plants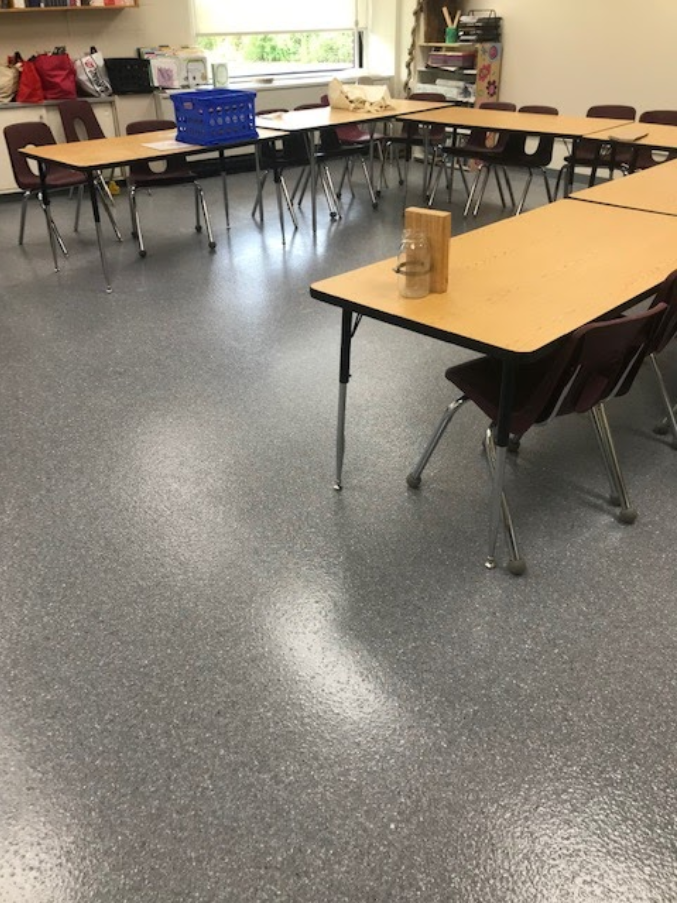 Anti-Microbial Seamless Epoxy Floor Benefits: 
Durable

Easy to clean and sanitize 

Hygienic does not harbor bacteria

High chemical and abrasion resistant. 

Harmless to Animals

Long Lasting

VOC Compliant

Air quality compliant/ low odor options

Aesthetically pleasing

Skid-resistant

Water Resistant

Meets USDA, FDA and OSHA standards
If you are considering the use of an Anti-Microbial floor coating to help lower contaminates in or around your structure, think about adding additional protection to the walls as well with our epoxy and urethane walls systems.  Of course, you will still need to clean and sanitize any surface according to the manufacturer's recommendations. 
Everlast Industrial Flooring, is one of the leading industrial flooring experts and they have over 20 years of combined experience in installing custom industrial flooring solutions. 
All of our epoxy flooring and polished concrete flooring systems are designed to be seamless hygienic surfaces that can be properly disinfected and cleaned and can stand up to the rigors of frequent harsh cleaning agents and sanitizers.  Call us today to discuss your project! 
Share this article using the icons below!