Concrete Surface Preparation
Concrete Surface Preparations
Our concrete resurfacing services include:
Floor coating removal
Glue removal
Floor surface preparation
Concrete grinding
Crack filling and control joint sealant systems
Shot blasting
Shot Blasting
Shot blasting is the preferred method of mechanical preparation that cleans and profiles simultaneously. Shot blasting strips thin coatings, removes contamination and laitance (soft concrete) to reveal a mechanical profile for improved bonding.
This method is achieved by blasting a concrete surface with steel shot (small steel balls) at a high velocity. It is suitable for large and small areas that delivers high production rates, a dust free environment and cost effectiveness. Excess shot must be swept-up after blasting and dust is recovered by a powerful dust collection system.
Shot Blast Services Include:
Concrete floor cleaning
Glue & Mastic Removal
Epoxy Flooring Removal
Concrete Sealer Removal
Profiling Concrete
Etching Concrete
Rubber build-up removal
Elastomeric removal
Removal of Heavy Contaminants
Caulk & Tar residue Removal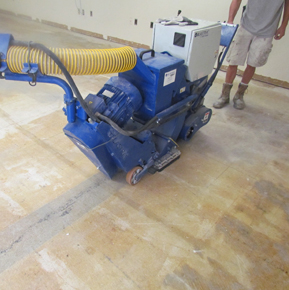 The experienced flooring contractors at Everlast Industrial Flooring are proud to offer top-quality concrete surface preparation for businesses and facilities in CT, MA, RI, and NY. For more information about our services please Contact Us!