Retail & Grocery Store Flooring
Epoxy Flooring for Retail and Grocery Stores in CT
Retail and Grocery stores need to withstand heavy foot traffic, shopping carts, as well as forklifts and other heavy equipment to take in deliveries and restock.  Our epoxy flooring systems and polished concrete floors are an ideal choice for retail establishments and supermarkets because they are low maintenance, durable, slip resistant, and easy to clean making them extremely hygienic. 
Seamless floors are a sought after option due to the No Grout lines and ability to quickly, safely, and thoroughly clean the flooring system.  Spills that aren't immediately cleaned can contribute to the potential buildup of harmful microbes, mold, and bacteria, and can contribute to dangerous slip-and-fall hazards.  Our epoxy flooring systems come in a variety of textures making them extremely slip resistant.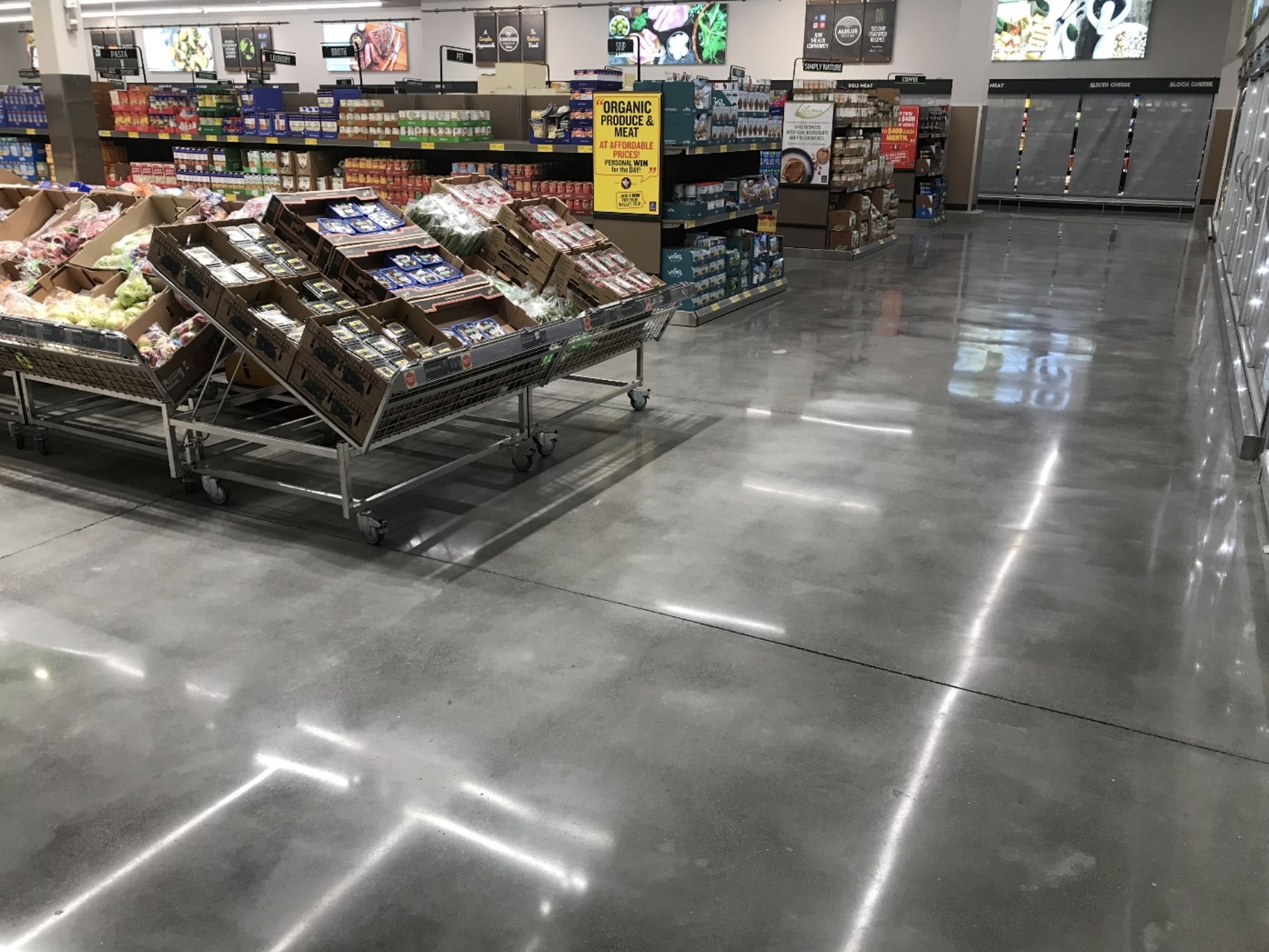 Polished Concrete Flooring for Retail and Grocery Stores in CT
A polished concrete floor creates a natural, low maintenance, easy to clean surface that brings out the natural beauty of any concrete slab.  A concrete slab is extremely durable and can withstand the day by day abuse in any retail and grocery store sales floor.  With a high gloss finish it also enhances light reflectivity, this makes polished concrete a popular choice in retail where there's little natural light.  Good lighting not only brightens up the store but has also been proven to improve employee morale and productivity.  Polished concrete works for any retail establishment not only because it's practical and economical but it's also a stylish choice too!
No retail store can afford to have downtime for floor fixes and repairs. Our retail and grocery store floor systems are low maintenance options that requires no additional floor stripping or waxing while also extremely durable and they will keep your store looking great for years to come
On top of the harsh chemicals and heavy wear to which these floors are subjected these finishes must also support safety and sanitation regulations administered by agencies like the USDA, FDA, OSHA, and others.
Benefits of Seamless Epoxy Flooring for Retail and Grocery Stores in CT
Benefits: 
Hygienic, sanitary and easy to clean.

Completely seamless, reducing the places for mold and bacteria to grow

Skid and slip resistant for safety

Wide Service Temperature Ranges

High chemical and abrasion resistant 

Moisture tolerant 

Durable

Highly reflective surfaces to enhance available light
Recommended flooring systems: 
Decorative quartz epoxy system

Cementitious Urethane epoxy systems such as Poly-crete or Hybri-flex systems. 

Polished concrete for sales floors
Retail and Grocery store flooring solutions for: 
Aisles                                                          

Break room

Office Space                                              

Bakery

Shopping mall space                                

Deli

Storefronts                                                

Freezers & Refrigeration

Food courts                                               

Restroom

Sales floor
The experienced flooring contractors at Everlast Industrial Flooring are proud to offer top-quality epoxy flooring for retail and grocery stores in CT, MA, RI, and NY. For more information about our services please Contact Us!