The floors of doctor's offices, clinics, hospitals, and surgery centers need to meet specific requirements for sanitation, safety, aesthetics, durability, and ease of cleaning, but veterinary clinics, animal shelters, dog kennels, and pet training facilities have the exact same needs. Settings that experience high levels of animal traffic need a flooring system that is hygienic, easy to clean, low odor installation, durable and safe for sensitive paws and flooring that helps prevent the spread of bacterial growth and other pathogens.
Here are our Top 5 reasons why epoxy flooring systems are the perfect choice for your Animal Care Facility.
#1 Durability
The floors in veterinary clinics, animal hospitals, and doggy daycares take in a lot of ongoing abrasive traffic. The roughness of the animal paws and claws and even intense play would scratch and damage traditional flooring such as laminate or tile. An epoxy floor is abrasion-resistant and can withstand a great deal of rough traffic from paws, shoes, and moving equipment traffic. With the proper cleaning and maintenance, the replacement of epoxy floor coating is much less frequent than other flooring options.
#2 Sanitation
Epoxy floors are seamless, non-porous, and antimicrobial. This is critical in the veterinary industry due to infection control and the prevention of mildew and mold growth. Epoxy floors are chemically resistant and do not allow water, bodily fluids, or any other liquid contaminants to seep into the floor structure. This helps keep animal waste and harsh cleaners and disinfectants contained on the surface of the concrete, where they can be disposed of quickly and safely. Anti-Microbial additives are also available for even more protection. These treatments provide the floor with long-term protection against a broad spectrum of bacterial and fungal attacks. These additives are formulated into the flooring systems from the basecoat to the topcoat for more protection.
#3 Safety and Good Traction
Keeping four-legged patients and their owners safe is a top priority. Epoxy floors can be designed for optimal slip resistance, meaning that the likelihood of slip and fall accidents is greatly reduced. This is also extremely important for employee safety.
#4 Easy To Clean
Epoxy floors are easy to clean and disinfect. They are also resistant to thermal shock, meaning that they can handle the hot water wash downs that frequently happen in veterinary hospitals and other animal care facilities.  With advanced topcoats, they are chemical resistant and can withstand the aggressive wash downs of harsh cleaning agents.  An integral floor-to-wall cove base and a floor that gently slopes to a drain can be time-savers, especially when hosing down kennels and other areas while keeping the areas watertight. 
#5 Attractive
Epoxy floors are stain-resistant and can be formulated in a variety of colors and textures to provide a visually appealing flooring system.  Our decorative chip and decorative quartz flooring systems have multiple color blends and custom color options for a unique decorative look.  Multiple aesthetic options for blended colorways, solid surfaces, or exact color matches for your aesthetic needs. 
Veterinary and animal care flooring solutions for:
Kennels

Animal Shelters

Boarding and Doggie Daycares

Veterinary exam rooms

Veterinary operating rooms

Zoos & Aquariums

Pet Groomers

Lobbies

Offices

Bathrooms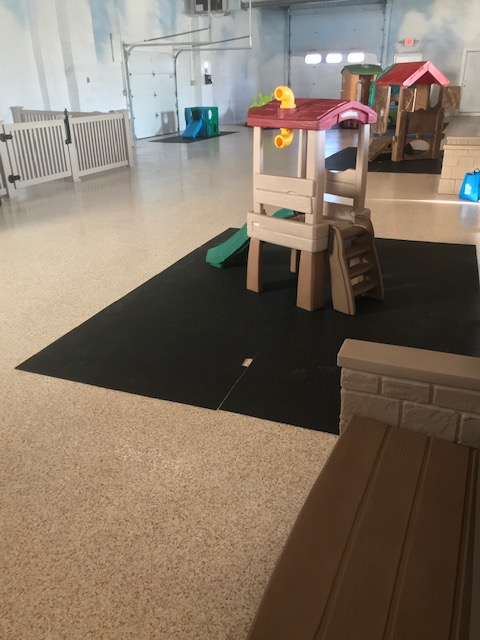 Benefits:
Hygienic, sanitary, and simple to clean.  

No seams for moisture to penetrate

Uniform appearance throughout the kennel

Provides non-slip resistance that is easy on the paws

Longer service life

Abrasion-resistant 

Stain-resistant 

Can withstand aggressive wash downs with harsh cleaning agents. 
Recommended epoxy systems: 
Decorative Quartz System 

Decorative Chip System 
Share this article using the icons below!