Decorative Quartz (Dur-A-Quartz) Epoxy Flooring with Dur-A-Wall VC epoxy wall system
Businesses have implementing strict cleaning and safety protocols like we have never seen before.   There is plenty of talk about hand washing and disinfecting high touch surfaces, increased use of sanitizers, wearing facemasks and social distancing but little is being said about another possible transmission source for pathogens and that is flooring.
In a study published by the CDC surface and air samples from an intensive care unit (ICU) and a general COVID-19 ward (GW) at Huoshenshan Hospital in Wuhan, China were tested. "The rate of positivity was relatively high for floor swab samples (ICU 7/10, 70%; GW 2/13, 15.4%), perhaps because of gravity and air flow causing most virus droplets to float to the ground. In addition, as medical staff walk around the ward, the virus can be tracked all over the floor…"
Our hygienic coatings for internal walls and floors provides a non- porous surface that is easy to clean, is sustainable, and free from joints and seams and other features that might harbor dirt and bacteria. 
In the last several years we have seen a major shift from traditional types of flooring to fluid applied floors in many places where bacterial growth and the spread of pathogens could be very detrimental, especially in hospitals and commercial kitchens.  Veterinary clinics, laboratories, food production facilities, and restrooms are also common spaces seeing this shift in flooring but now a days these seamless floor systems work well in any facility.  But we can still learn a lot from hospitals and food industries when it comes to health and safety construction designs.   
Fluid applied flooring, also known as epoxy flooring and resinous flooring are poured in place and once cured, leave a solid surface that is easy to clean, doesn't allow liquid to absorb, and won't harbor germs.   Bacteria and allergens can sit on the surface, but cannot penetrate the surface like they can with carpet, seams, or grout, and contaminants can easily be removed through proper sanitization.
With any of our epoxy flooring systems we can add Anti-microbial additives to help with germ fighting efforts and preventing surface growth of bacteria and fungus, not only across the surface of the floor, but throughout the entire coating material, so there is never any concern of a drop in performance as the surface wears over time. 
Hybri-Flex EB Epoxy Flooring system with Anti-Microbial additive.
Benefits of a seamless epoxy flooring system. 
Hygienic, sanitary and easy to clean.

Completely seamless, eliminates cracks and crevices that can harbor pathogens. 

Skid and slip resistant for safety

Meets USDA, FDA and CFIA standards

Wide Service Temperature Ranges

High chemical and abrasion resistant.

Moisture tolerant

Durable: Allow frequent foot traffic and more heavy equipment without tearing the floor. 

Fast installation options
Porous surfaces are materials that have more holes and allow liquids to flow through, as the molecular structure of these surfaces will enable them to have more space for absorption and airflow. Some examples of porous surfaces we commonly use today are drywalls, carpeting, wallpapers, acoustic ceilings, unfinished concrete, brick and unglazed tiles, and grout.  These surfaces don't seem to be the right fit for a hygienic floor surface due to its threat that it could house bacteria and viruses. 
Non-Porous surfaces are denser and allow no absorption of liquid or air, for example, resinous flooring systems, also known as epoxy and fluid-applied flooring, polished concrete flooring systems, glazed ceramic tiles (grout is porous), and vinyl. Such materials are a healthier option in today's times due to their ability not to let dirt and germs accumulate on the surface.
What is good for the floors is good for the walls and ceilings! 
Seamless floors can be tied into the walls by installing coving or resinous wall systems. This creates a truly seamless environment for increased sanitation. Epoxy wall coatings are frequently used in facilities where health and safety are of utmost importance and will help ensure that a building's environment can be kept to the highest possible standard of hygiene.   Our epoxy walls systems are seamless and do not harbor bacteria and are resistant to moisture that leads to dangerous mold.  Traditional latex paints, unlike high-performance epoxy wall coatings, are not formulated with the proper abrasion and chemical resistant properties necessary to hold up over time.  Our epoxy wall systems work particularly well over concrete walls as well as drywall, cement board, CMU, tile, and previously coated walls.   Concrete walls are prone to cracking and our epoxy wall systems work by eliminating seams and cracks that can harbor water and bacteria.  Our resinous wall systems are not only safe but also aesthetically pleasing with a complete line of colors and finishes such as fiberglass reinforced, flake, epoxy, and urethanes.
Dur-A-Wall HP Epoxy Wall System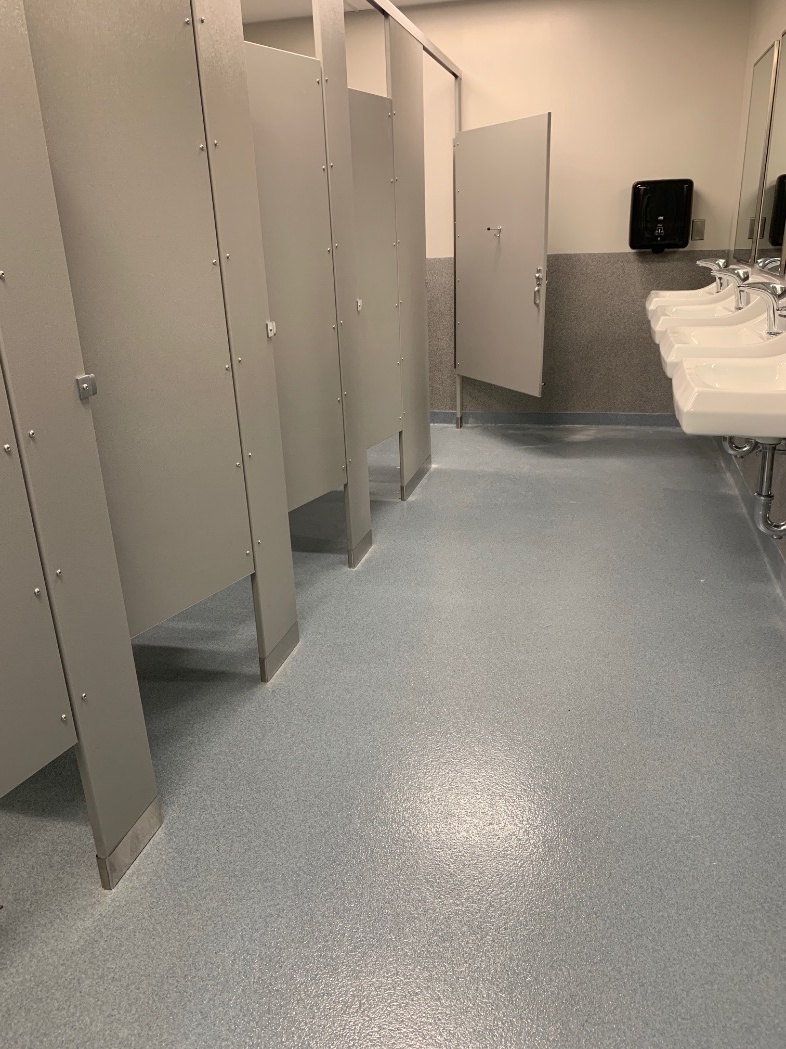 Decorative Quartz (Dur-A-Quartz) Epoxy Flooring with Dur-A-Wall VC epoxy walls.
Benefits of a seamless epoxy wall system. 
No seams for bacteria to hide

Stain resistant

Easy to clean, easy to sanitize

Durable

Easy maintenance

Resinous walls systems work seamlessly with resinous flooring systems
Clean and Disinfect. 
Regardless of the type of flooring in a facility, a proper cleaning and maintenance schedule is vital.  Often floors can be neglected and with the abuse they can take from moving heavy equipment, extreme foot traffic, and wheeled traffic they can become damaged over time.  Floors should regularly be inspected for cracks, peeling, and damaged areas so that they can promptly be fixed.  These cracks and spalls can harbor contaminants. 
Our resinous flooring systems have been tested against and proven to stand up against many medical and pharmaceutical grade chemicals and cleaners. They can be cleaned and disinfected repeatedly without being compromised or stained. 
Preventing the spread of bacterial and viruses is vital for patient health in hospitals, but it can be just as important for employees in non-healthcare facilities particularly with the current Covid-19 pandemic.  Choosing the right floor system for your facility's particular needs, as well as implementing a regular cleaning and sanitizing schedule, can help reduce the risk of infection for patients and employees, but can also minimize the spread throughout the community as a whole.
How can we help prevent the spread of viruses:
Following individual cleanliness

Cleaning surfaces (horizontal and vertical)

Building/ renovating with safer materials

*hard, non-porous materials for cabinets, walls, floors and permanent fixtures

Installing seamless floors / walls. 
Decorative Chip (Dur-A-Chip) Epoxy Flooring system.
Share this article using the icons below!