Though our office spaces look a bit different these days due to this global pandemic and fewer people are actually in the office and more people are working from home.  Good things are coming with spring in the air and vaccines being distributed the idea is that many people will be returning to their office space.  The question is, is your office space design fit for what we need today?     People typically spend eight to twelve hours of their day in their office space.  Companies need to consider that their employees are safe while also creating a beautiful ambiance which is important for the productivity and morale of the team.  Polished concrete floors achieve this by giving your office atmosphere a gleaming bright surface with a touch of elegance. 
The modern and rustic look polished Concrete delivers is a design that architects and builders have been loving for a long time and this trend is not going anywhere anytime soon.   Here are a few top reasons why you should consider a polished concrete floor for your commercial office space.
1. Keeps the Office Healthy / Easy to Clean / Low Maintenance 
With the health and safety of employees and clients being every workplace's top priority having a seamless flooring system is going to be a healthy flooring solution. Any flooring system that has a seamless surface will have the capability to defend against bacteria, mold, mildew, and other contaminants because there are no grout lines to breed in and like carpet tends to store bacteria and allergens within the fiber.  Carpets also trap dirt and stain easily and wood floors require lots of maintenance to keep them from scratching. 
Polished concrete floors do not hold any dirt or allergens and are easy to sanitize and clean.  Polished Concrete floors are finished off with a stain guard treatment that works as a protective layer that will keep water and stains from penetrating the surface. 
The only maintenance you will need on a Polished Concrete Floor is regular sweeping and mopping. Unlike carpets, you won't need regular steam cleaning. And unlike tiles, which can cost a lot to maintain, polished concrete is really hard to damage and is nearly impossible to chip or scratch. It can take the strain of constant foot traffic, swivel chairs, and moving furniture.
2. Polished concrete floors look good
Polished concrete gives the office environment a sophisticated clean and professional look.  When potential clients, employees or business associates walk into an office space with an ultra-shiny polished floor it creates a lasting first impression.  Concrete does not just come in grey anymore.  Polished concrete finishes can be applied with a wide variety of color stain options and even customized logo designs.  The design of a room becomes simple when you have a floor finish that creates a beautiful contrast with furniture and décor.
Polished concrete is also a highly reflective surface, meaning it works really well in darker spaces where there's minimal natural light or more reliance on artificial lighting. The floor reflects artificial lighting, brightening a space that could otherwise look drab.  A clean bright space will put the entire office in a great mood.   They also have a stark look that makes a small space seem large. 
3. Durability
Polished Concrete is a once and done flooring system, meaning you'll never need to replace it, unlike other flooring systems like carpet and vinyl or engineered wood which need to be replaced every few years.  Any efficient business owner will want to invest in a floor option that will last for years and years to come. 
Since these floors are made out of concrete which is the strongest material in the world, you can feel confident they will last.  Concrete floors can withstand the toughest treatment and still look good for years.  
4. Polished concrete floors are eco-friendly
Concrete is the most sustainable choice because the concrete most often is already there and there is no need for flooring materials.  New or existing slabs can be ground flat and repaired eliminating cracks and void in the concrete before we polish it. 
As we mentioned earlier polished concrete is a highly reflective surface meaning you'll use less electricity on artificial lighting.
If you're looking to up your business's eco-credentials, concrete floors could be a good first step in creating a sustainable and efficient office.
5. Polished concrete floors will save you money
Polished concrete is low maintenance, easy to clean, long-lasting, and has a range of other benefits that will save you money in the long run – such as savings in electricity, heating, and cooling.   The maintenance cost for polished concrete floors is very low as they do not need any waxes or sealers or routine steam cleaning services like carpet.  
Concrete floors will also add value to your commercial space. If you ever plan to sell your space having the floors already polished for the next buyer will be a big selling point. These floors are an investment back into your business. 
Longevity alone is a big money saver with concrete floors. Polished Concrete is a timeless finish and this trend will never disappear, meaning you won't have to keep changing everything whenever a new trend gains popularity.   Also as mentioned before a polished concrete floor will never walk off the floor. This is a forever floor and you will save big dollars by never having to do your floors over again.
Things to consider at bid time
Some important things to consider when comparing quotes for polished concrete, not all polished concrete finishes are created equally.  Polished concrete is a very labor-intensive trade and when a specific sheen level and finish are specified you need to cross-check your quotes to make sure your bidders are not cutting corners.  Ask questions such as are all your bids showing the concrete surface being ground off?   The concrete needs to be cut in multiple steps using metal bond diamonds in various grit levels.  Are flooring materials such as densifiers and seal guard treatments included?  Most importantly are all bidders delivering the gloss level that is specified.  Remember you have to do many more passes with the polishing pads for a high gloss finish than you do for a matte one.
We Will Never Cut Corners
The best practice is to begin with a highly experienced contractor to evaluate your facility's needs. 
If your polished concrete finish is done right the first time and maintained correctly you have just won yourself a beautiful flooring system that will last a lifetime. Everlast Industrial Flooring is an award-winning polished concrete company located in Connecticut.  Winning the 2019 Polished Concrete awards most honorable mention in Concrete Surfaces Magazine and Cure-Crete Magazine.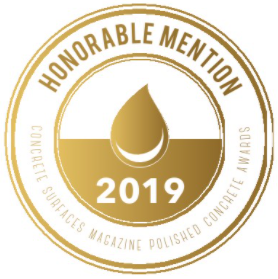 Share this article using the icons below!